Do you struggle each year trying to complete an 8-count sheet for your squad's cheer routines?
Well, you're in luck! We have 5 helpful hints for you to be able to properly complete an 8-count sheet for your 2018-2019 cheer routines!
What You'll Need to Start:
1) Cheer Routine 8-Count Sheets: If you do not already have an easy-to-use, computer-friendly cheer routine 8-count sheet, click here to download ours. It's 100% free to use, can be filled-in and printed off from your desktop or mobile device, and the text size within the PDF file adjusts to your character length!
2) Video of the Routine(s): A complete, start-to-finish video of each choreographed routine is crucial for both completing the 8-count sheet and for the producer to refer back to if he is unclear about your description(s) on the 8-count sheet. Sending videos in short, segmented, or overlapping clips can be very confusing 
3) Music Length Requirements & Restrictions: If you are completing an 8-count sheet for an all-star cheerleading routine or other type of competitive cheer performance, you will want to check with your competition vendors to make sure your routine fits in their specific length guidelines. For your convenience, we have provided a chart that provides the most common speed used in cheerleading music (144 BPM), and the recommended number of 8-counts for cheer routine music that is either 1 minute 30 seconds, 2 minutes, 2 minutes 15 seconds, or 2 minutes 30 seconds in length.
#1 Break it Down
Attempting to accurately fill out your routine's entire 8-count sheet in one sitting, especially in a gym setting, can be overwhelming. Along with the common theme of non-stop action within cheerleading routines today, it can be hard to decide what is and is not important for the cheer music producer to know when filling out an 8-count sheet step-by-step.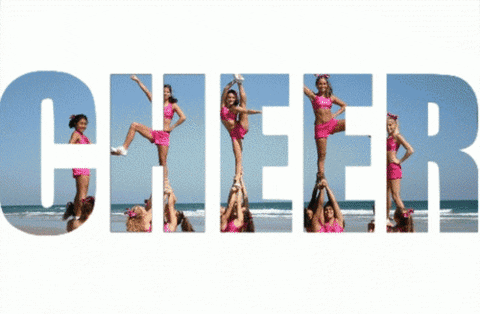 Before you begin mapping your routine out make sure your 8-count sheet has a column labeled "Sections". This allows you to be able to dictate to the cheer music producer when one section of skills in the routine ends (tumbling, stunts, dance, etc.), and where the next section begins. 
First, label the start of each section of the routine by describing the section in the boxes provided under the "Section" column.
EXAMPLE: If your "Group Stunt" section or sequence starts within the 11th 8-count of the routine, you would write or type"Group Stunt" on line 11 of the 8-count sheet.
Do this for each of the following sections of your cheer routine (if applicable):
Cheer Section*

Standing Tumbling

Jumps

Group Stunt

2-Man Stunt

Partner Stunt

Basket Toss

Running Tumbling

Pyramid

Dance
*There are two (2) types of cheer sections in cheer music production. A non-music cheer section is a section of the routine that does not include the use of synchronized music. This is common in competitive routines for elementary school cheer, middle school cheer, high school cheer, & college cheer. A low-music cheer section is a short section of a cheer routine (usually between two to four 8-counts) where the music is faded out to a volume where the team saying the cheer can be heard, then faded back in to a normal level whenever the cheer is complete. This type of cheer section is common in all-star cheerleading. 
Once you have labeled the start of each of your skills sections, you are then ready to label your "transition" sections!
If at least one or more 8-counts are used to transition from one formation to the next in your routine , you'll want to label those 8-count lines as "Transition". 
#2  Think about Cartoons!
The work of a cheer music producer is very similar to that of a sound engineer and film music producer. The cheer mix producer's job is to make the lyrics, melody, beat, and sound effects to compliment and synchronize with the motions, movements, and skills being performed in each routine. 
TRY THIS: Can you see the GIF below? Of course you can! 
But.......can you HEAR what's going on?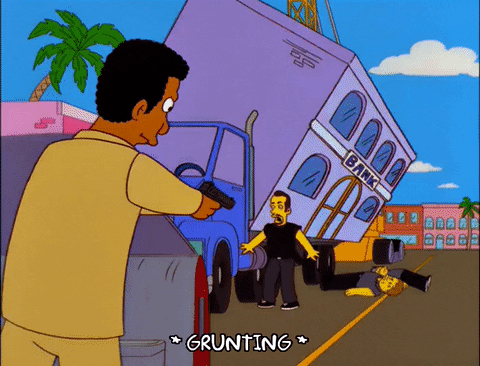 Obviously there is no sound behind this animation. But, let's image there was sound playing in this clip. What would you expect to hear?
A building crumbling to the ground? A gun shot? A man "grunting" for his life? Which sound comes first? Last?
What about the background music? Do you hear a "James-Bond" type jingle in the background, suspenseful symphonic build?
Now, apply the same concept to the cheer routine you are describing. What do you see and expect to hear? Relay this information to your cheer music producer in a way that is simple and self-explanatory. The goal for the sound of the cheer mix to match the flow and components of the routine from start to finish.
The elements in your cheer routine that stand out the most are important to notate on your cheer routine 8-count sheet. It is common for cheer music producers to place sound effects on motions or skills that are being performed by the majority, if not the entire, squad of cheerleaders. This also goes for individuals or small groups whose skills are a feature or "focal-point" during part of the routine. Sound effects also help cheerleaders maintain uniformity and timing throughout their routine.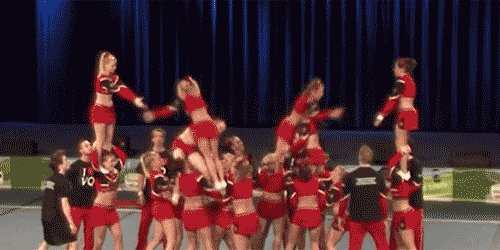 Here are (in my opinion) some of the most important motions and skills to notate on your cheerleading 8-count sheet when breaking down a cheer routine:
General Routine Motions & Skills (applies to all sections of a cheer routine):
Claps

Cleans

Rolls (seat-rolls, forward/backward rolls, side rolls, head-rolls/hair-whips, dive-rolls, etc.)

Snaps

Squad Motions (high-v, low-v, T-motion, left/right punch, etc.)

Any type of ripple-effect (the count each ripple motion or skill occurs)
Stunts, Baskets, & Pyramid Sections:
All dips (or "loads"), kicks, twists, & flips

The count when pyramid structure(s) pose or "hit"

The count a flyer is "tossed" in the air

Large transitions

Tick-tocks, switches, and other release moves

Dismounts (full-down, cradle, half-down to prone, etc.)

When flyers transition up or down together
Tumbling & Jump Sections:
All kicks, twists, & flips

All tumbling skills (optional for running tumbling)

All jumps (toe-touch, hurdler, pike, etc.)
Dance Section: This is optional and notation preferences on the dance section vary from one cheer music producer to the next. If you already have a video of the dance section to send to your cheer music producer, he or she can decide which (if any) sound effects to put into the dance section of the cheer mix. If you do not have a dance choreographed yet, ask your cheer mix provider to produce your dance mix before the rest of your routine mix. This will give your choreographer time to listen to the dance mix for the cheer routine and come up with ideas before choreography day!
#3 Decide What's Important!
As cheer routine choreography continues to become more complex and intricate, it can be hard a cheer coach to decipher which elements in the routine are most important to include on your cheer leading routine 8-count sheet. When you've got two or more amazing skills all happening at the same time , how do you know which skills to put down on the 8-count sheet?
My general rule-of-thumb is to choose the tallest (in relation to the performance floor) or the most advanced motion or skill that is being performed at that moment. When in doubt, follow your eyesight. When faced with a difficult decision, ask yourself:
Where do your eyes go during that part of the routine?
Which motions or skills catch and hold your attention?
If you still can't decide, ask your cheer music producer. He or she will be able to decide which elements would be best to highlight in your cheer mix during those specific sections. 
#4 Videos. Videos. Videos.
This is the most important thing you can do when responsible for the epic task of filling out the 8-count sheet for a cheerleading routine.  
Before recording a complete video of the routine, make sure you have a 145 BPM 8-counter cheer mix. New Level Music offers one on SoundCloud.com. SoundCloud offers a website and mobile app platform for playing music by producers from around the world! You can click here to listen for yourself!
Once you have found an 8-counter that works for you, prepare your cheer team and their routine for video recording. You need a single video of the routine behind the 8-counter mix with at least 75% of the skills executed by the entire squad, and 100% of the choreography performed by the entire squad. Between the 8-count sheet and your video recording, your cheer music producer should have a clear understanding of what's going on throughout the whole routine.
To hear samples of past cheer mixes produced by Zero Deductions Productions LLC, check out our SoundCloud page and make sure to follow us! We will be posting new samples of our 2018-2019 cheer mixes here within the next couple of weeks or so!
Videos are great because you can always go back and verify that your 8-count sheet matches the elements in your routine.
Sending a video to your cheer mix producer, along with a properly completed 8-count sheet, helps paint a complete picture of your cheer routine. 
At Zero Deductions Productions LLC, we require videos & 8-count sheets before producing any routine cheer mix. When we complete a mix, as a quality-service measure, we always play each cheer mix behind a video of the routine before sending the final mix to our clients. This process ensures all sound effects sync up perfectly with the routine it was created for. 
#5 Work with Experienced Cheer Mix Producers
When it comes to cheer mix producers, you want to work with a company that is:
Knowledgeable about music licensing, copyright law, & the proper license(s) your program needs to be able to perform or compete with cheer mix you are provided

Listed on the USA Cheer's Preferred Provider List for Cheer & Dance Music

Listed on SpiritPros.com -The World's #1 Source for TRUSTED Cheer & Dance Professionals

Available to provide a list of references upon request.
At Zero Deductions Productions LLC, we are able to meet all of these standards. If you would like more information on our cheer mix packages & pricing information, click here!
Completing a cheer routine 8-count sheet can be tedious, frustrating, and confusing. At Zero Deduction Productions, we make it easy by providing a FREE 8-count sheet online, which can be completed and printed right from your computer.
If you would like to use our easy-to-use 8-count sheet, click here to download our cheer routine 8-count sheet!
We hope you found this information on filling out cheerleading routine 8-count sheets to be useful and educational. If you have additional questions about how to complete a cheerleading routine 8-count sheet, please e-mail us at info@zerodeductions.com
Please reload